On this page I hope to be able to bring news, articles, and maybe my own opinion and thoughts on songs and other things. Some of you might find this page to contain things that you already know, if not I hope you find it to be informative!
Brightest Blessings!!
My first tattoo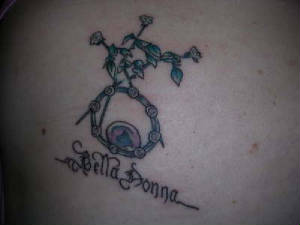 on my left shoulder blade
My second tattoo...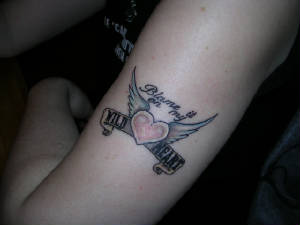 On my left upper arm
CRYSTAL VISIONS
Stevie is scheduled to release "CRYSTAL VISIONS…THE VERY BEST OF STEVIE NICKS" on March 27th on Reprise Records. "CRYSTAL VISIONS" is a collection of songs from her three decade career as a solo artist and member of the legendary Fleetwood Mac.
The CD opens with the original mastered studio version of "Edge of Seventeen" and closes with a live performance of the song recorded last summer with the Melbourne Symphony Orchestra. It includes a live version of "Landslide" (also recorded with the Melbourne Symphony), a knock-out version of Led Zeppelin's "Rock and Roll", the Deep Dish dance remix of "Dreams" and "Silver Springs" from the original master of "RUMOURS."
The DVD component of "CRYSTAL VISIONS" offers 13 Stevie videos with voice-over commentary by Nicks as well as an audio interview by journalist David Wild. Also included on the DVD is a never before seen Stevie Nicks home video which was filmed during the making of the five-times platinum "BELLA DONNA" album. Courtesy of the NicksFix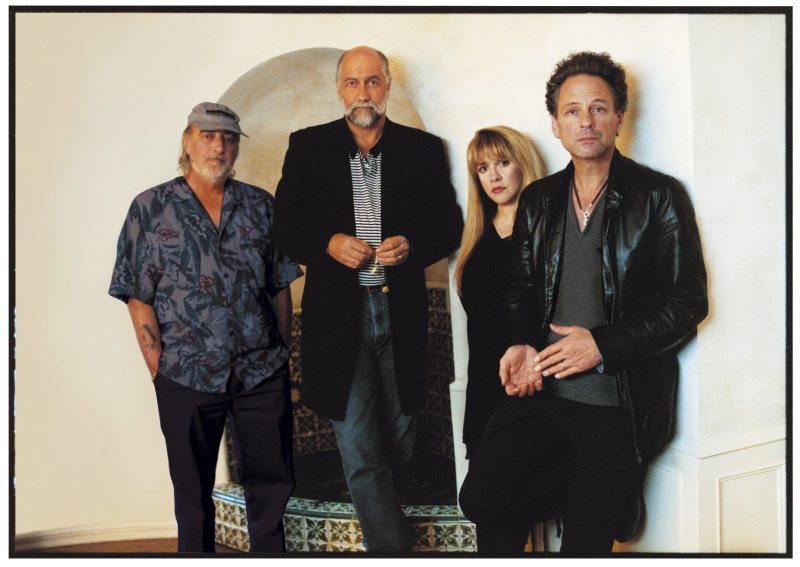 Happy Hulaween!
To some this may not be a big deal and if you are one of those, then I apologize for this may be boring. You are free to leave and explore the rest of my site. To the others, I remind you that I am not a professional writer or reviewer so please be patient if this sounds less than professional and more like bland. To quote Stevie, "I'm doing the best that I can."
Well as you may (or may not)know Stevie was the scheduled performer this year at Bette Midler's Hulaween event at the Waldorf Astoria Hotel in Manhatten, New York on October 31, 2006. The whole evening was just a blast. Everyone was dressed in costumes and let me just say some were VERY unique. As Bette Midler said herself, she wasn't the only Queen there that night. I could go on and on about the place but I won't, it was my first time EVER seeing Stevie and I have to say she was TOTALLY awesome. I didn't expect her to be anything but awesome. All the pictures I have and I have seen, all the videos, all the concert videos does not come close to showing her beauty. She was and is absolutely STUNNING. Her voice was right on, she sounded like she did when she was younger. The first song she came out to was Stand Back (complete with her trademark twirl that just drove everyone wild), then she did Rhiannon, Outside the Rain, Dreams, Stop Draggin' My Heart Around, Landslide and as we (my hubby and I) were leaving she was just starting to do Edge of Seventeen. I have some pictures and I will post them later, they are not the best quality, they are kind of blurry but not too bad. We were able to capture her singing the first 4 songs then we had to leave. It is definitely a night I will not forget anytime soon. I would never have been able to see her if it wasn't for my Bestest Friend and Sister (my kindred soul)and her husband. I love you guys and I will never be able to thank either one of you's enough. Thank you for making another one of my "dreams" come true.
"I will not forget this night."
Spreading her Enchanting Gold Dust Down Under...
Stevie's Gold Dust tour will be picking up again in February, February 18 to be exact, in Melbourne, Australia at Rod Laver Arena. She will be performing with the Melbourne Symphony Orchestra in a concert that will be filmed for DVD (how cool). Stevie will then be sharing some dates with popular Australia rocker John Farnham. They will perform in Brisbane, Perth & three New Zeland venues. Vanessa Carlton will be touring with Stevie for all shows, Vanessa was with Stevie this summer on a five-week North American Tour. Stevie will have her 9 piece band with her led by guitarist Waddy Wachtel. Stevie will be playing her hits from Fleetwood Mac & her own solo hits as well. The last time Stevie visited Australia was when Fleetwood Mac toured in 2004 as part of their reunion tour.
June 18, 1977
Fleetwood Mac's "Dreams"
hit the number one spot on
the pop music charts.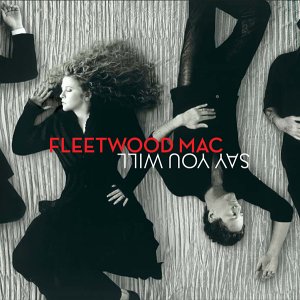 Updated Fleetwood Mac News:
Stevie, Lindsey & Christine nominated: Songwriters Hall Of Fame:
The list of nominees for the Songwriters Hall Of Fame class of 2006 is loaded with Rock And Roll Hall Of Famers. The "Performing" section
of the ballot includes Who leader Pete Townshend, Neil Young, Kinks leader Ray Davies, Steely Dan's Walter Becker and Donald Fagen,
current and former FLEETWOOD MAC members LINDSEY BUCKINGHAM, STEVIE NICKS, and CHRISTINE MCVIE, and Felix Cavaliere and Eddie Brigati
from the Rascals. Also being considered as performers are Leon
Russell, Prince, country stars Mac Davis and Merle Haggard, and
singer-songwriters Janis Ian and Joe South.

There's also a "Non-Performing" list that includes Steve Winwood and
Eric Clapton collaborator Will Jennings, Hair composers Galt
McDermott and James Rado, "Philly Soul" architect Thom Bell, and
Motown veterans Henry Cosby and Sylvia Moy, among others.

Voters can choose two from the performing list and three from the non-
performers, for a total of five. Ballots must be returned by November
15th, and the winners will be inducted next year.
Fleetwood Mac News
The Very Best of Fleetwood
Mac album has gone Platinum
with OVER 1 Million in sales!!
source:billboard.com
Birthdays
Stevie 5/26/48
Lindsey 10/3/49
Mick 6/24/47
Christine 7/12/43
John 11/26/48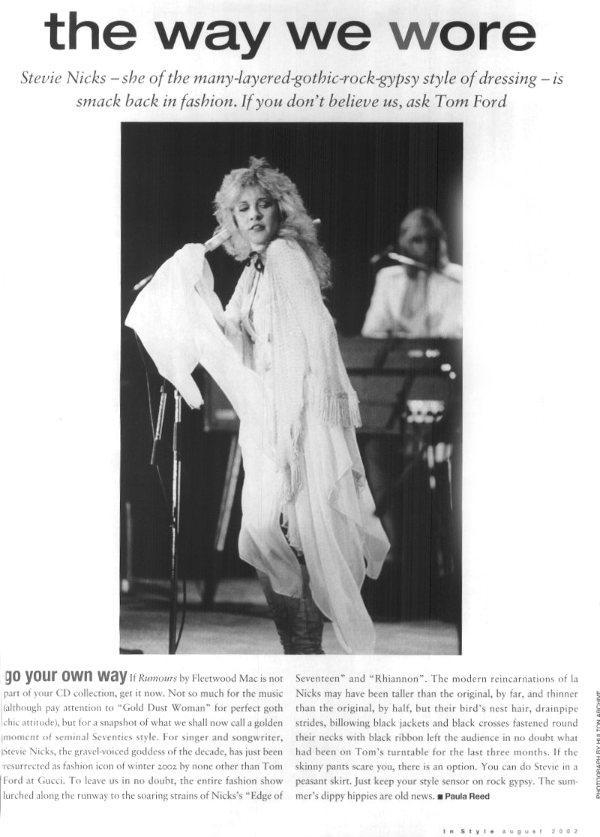 above article can be found on the Nicks Fix.
Blame It On Her Wild Heart
Stevie donated several 'Wild Heart'
rings, clothing, and a signed guitar
from her 'Sorcerer' video. A
painting of Stevie done by Christine
McVie, and handwritten lyrics of
'Rhiannon' were also donated by
Stevie. To benefit the East End
Disability Associates. The lyrics
for 'Rhiannon' went for more than
$3,000.00 and Stevie fans in total
donated OVER $21,000.00 to the
auction.
Drumming To The Beat Of His Own Site
Mick Fleetwood has his own site and it is very cool, really is Mick's style. To find out more click on the picture below and that will take you to his site, once you're there click on "Mick's Chat Room" and look in the news section. Enjoy his site! I also have his site on my Related Links page.

Going His Own Way...
Lindsey is going his own way like he always does with his new site, check it out by clicking on picture below. Very much Lindsey's style!