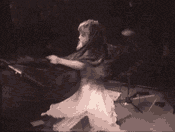 Every blade of grass has its angel
that bends over it and whispers,
'Grow, grow.'
The Talmud

The various gifs, animated gifs, clipart pictures, and backgrounds are NOT mine. I got some from a pretty kool place called gif.com which is part of WebDeveloper.com and also a website called Mike Shakikun's Animated Gif collection, which is REALLY KOOL!!!! Both places offer FREE animated gifs. Check them out for some great gifs for your web page!
Don't forget to sign my Enchanted Gypsy Book
I'd like to leave you with something warm! Thanks!