On this page I hope to be able to bring news, articles, and maybe my own opinion and thoughts on songs and other things. Some of you might find this page to contain things that you already know, if not I hope you find it to be informative!
Brightest Blessings!!

Fleetwood Mac Album & Tour
Fleetwood Mac is planning a 40-60 date USA tour next year in support of their new album, which is due to be out in spring and is currently being mixed. See the Nicks Fix for articles from: Rolling Stone, Billboard, and ChartAttack.
I've been seeing on the web that Mick has a DVD out called Two Sticks and a Drum. From what I understand there is footage from the Mirage Tour (Sister of the Moon is on it!!!!!!!!!! I believe from the concert!!!Ahhh! But don't hold me to it!) and from what I also understand it is a bit of a documentary as well as having concert footage from the Mirage Tour. I believe you can purchase it from Amazon.com

Birthdays
Mick Fleetwood June 24, 1947
John McVie November 26,1948 or 1949
Christine McVie July 12, 1943
Stevie Nicks May 26, 1948
Lindsey Buckingham October 3,1949
The reason I have two years for John is that I have seen people argue over this. I'm not sure which one is right so I have both on here. I'd like to have the right year and I hope someone can help me. Until then it will stay this way.

The Gypsy Wild Heart Style
Well finally Stevie gets some recognition for her beautiful, romantic, enchanting, and mysterious style. But then, she could make burlap look beautiful, romantic, enchanting, and mysterious! The article and picture appear courtesy of the Nicks Fix, if you have a hard time reading the article. I love the picture! The article appeared in the UK InStyle August 2002. So Britney, Christina, and J.Lo eat your heart out! Stevie is in style and she doesn't have to dress or act like a sleaze to be in style and men still want her! Stevie conducts herself as a lady and has always dressed as a lady and young girls to older girls could learn alot from her! She is the ultimate lady! She'll always be beautiful because TRUE beauty is on the inside. She has both, beauty inside and out and has always been enchantingly mysterious and that in itself is sexy and beautiful!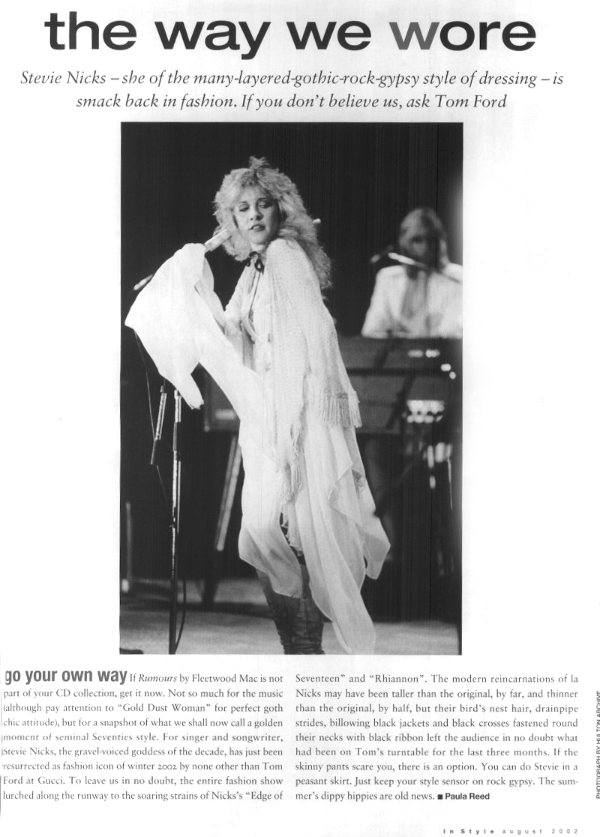 Non Stevie News
Have you wanted to put flames on your car but don't like the permanent idea? Has your husband/significant other wanted flames on his car but can't afford it. Well I want to tell you about my brother's site/small business trying to get off the ground, called Artisitic Holograms,Inc. They(my brother and his artist friend) have come up with a way to have the flames on your car but not in a permanent way, magnets! Very cool, very artistic, not permanent, and will NOT hurt the paint in any way! His artistic friend also does murals, airbrushing, and anything else. He has so much talent and its going to waste in this small town of ours! So please check out their site and for more information on the artist click on the About Us button. The picture below is a magnet and as I stated they do more than just magnets! Check them out! The picture is also a link to their site! Please enjoy!