Welcome to my homepage about my favorite gypsy lady Stevie Nicks.
Web building is all new to me so please be patient. All the pictures on this site are NOT mine and any and all copyrights and/or trademarks to these wonderful pictures belong to their respective owners. If there are any pictures that you do not want me to have on this site please let me know and I will take them off. I do not want any trouble from anyone, all you have to do is NICELY tell me and I will take the picture off. I would like to think that we can all share because we're all doing the same thing but in our own creative ways and that is making sites around our favorite rock 'n roll gypsy. Who can be wrong for that?
~Dawn~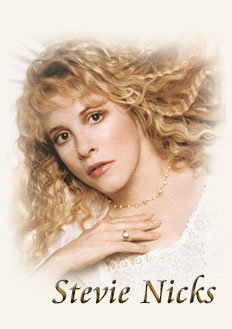 THIS IS WHAT ANGELS SOUND LIKE!!
I've been a HUGE, ENCHANTED, GYPSY for so long I remember my brother's playing Fleetwood Mac when I was 4 and hearing Rhiannon (I'm 33 currently). I really want to hear from other Stevie followers, for ideas, comments, or just plain ol' chit chat! I hope you enjoy the rest of my site and continue to come back from time to time to see if anything is different.
May the singer of the angels continue to keep us all enchanted
Through the storms, the happiness, and love...
We listen to you and listen through you
And the feeling does remain even after the glitter fades!
We love you, Stevie!